Based on "Tactics Ogre: Let Us Cling Together,"
"Tactics Ogre: Reborn" has been redeveloped
as a new "Tactics Ogre" in 2022.
This original soundtrack features music newly
written by composer Hitoshi Sakimoto
including 74 tracks that have been recorded
with live instruments of newly written tracks
and familiar tracks from "Tactics Ogre"
such as "Fight It Out!" and "Limitation."
Disc
1
1

Overture

試聴する

2

Chaotic Island

試聴する

3

Fortune Teller 2

試聴する

4

Catastrophe

試聴する

5

Notice of Death

試聴する

6

VENDETTA!

試聴する

7

Prayer

試聴する

8

Island Atlas

試聴する

9

Fight It Out!

試聴する

10

Theme of WLO

試聴する

11

Restriction

試聴する

12

Warren Report

試聴する

13

Prepare to take the field

試聴する

14

Air Land

試聴する

15

Avilla Hanya

試聴する

16

Blasphemous Experiment

試聴する

17

Footsteps From Darkness

試聴する

18

Looking Back

試聴する

19

Unit March

試聴する

20

Three Kings

試聴する

21

Deathrattle

試聴する
Disc
2
1

War Situation

試聴する

2

Notice of Death (Reprise)

試聴する

3

Agitation

試聴する

4

Impregnable Defence

試聴する

5

Myself

試聴する

6

Revolt

試聴する

7

Accretion Disk

試聴する

8

Retreat!

試聴する

9

A Color of Chaos

試聴する

10

Blessed memory

試聴する

11

Autumnal Sky

試聴する

12

Krypton

試聴する

13

Chivalry And Savagery

試聴する

14

Prayer (Reprise)

試聴する

15

Insincerity

試聴する

16

Breath of The Earth

試聴する

17

White Storm

試聴する

18

Fact of Shock

試聴する

19

True Feelings

試聴する

20

A Better Tomorrow

試聴する

21

Song of Tundra

試聴する

22

Theme of the priest

試聴する
Disc
3
1

Theme of Black Knight

試聴する

2

A Cygnet

試聴する

3

Reminiscence

試聴する

4

Showdown

試聴する

5

Piercing Truths

試聴する

6

Viking Spirits

試聴する

7

Fog of Phantom

試聴する

8

Harvest Dance

試聴する

9

Time Forever Lost

試聴する

10

Deeds Writ In Stone

試聴する

11

A Clash of Giants

試聴する

12

Limitation

試聴する

13

Unsealed

試聴する

14

In The Fray

試聴する

15

Glory

試聴する

16

Awakening

試聴する

17

Coronation

試聴する

18

Passing Moment

試聴する
Disc
4
1

Taking the Field

試聴する

2

Victory

試聴する

3

Wish - Iuria Version (Japanese)

試聴する

4

Wish - Iuria Version (English)

試聴する

5

Light Everlasting

試聴する

6

Religious Precepts

試聴する

7

Faraway Heights

試聴する

8

A Meet With Destiny

試聴する

9

True Knight

試聴する

10

Seeker

試聴する

11

Wish - Sirene Version (Japanese)

試聴する

12

Wish - Sirene Version (English)

試聴する

13

Wish - Scat Version (English)

試聴する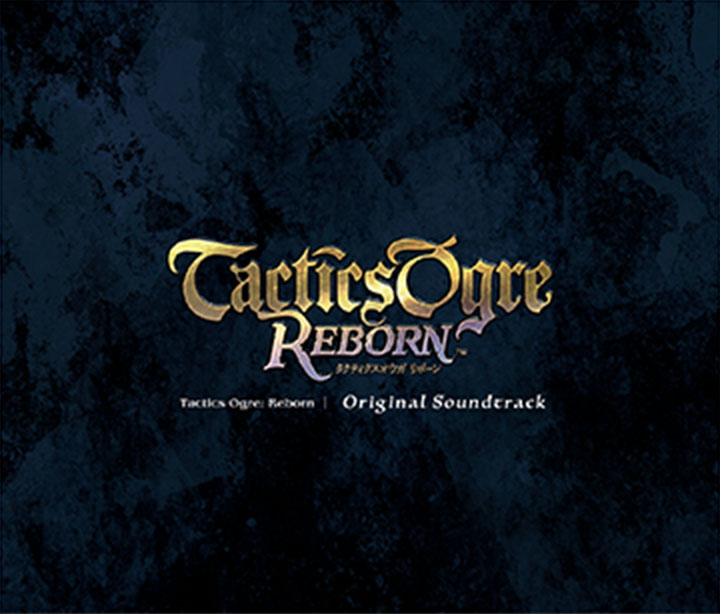 Tactics Ogre: Reborn
Original Soundtrack
Release Date

November 30, 2022

Price

¥4,180 (¥3,800+tax)

Spec

4 CDs

SKU

SQEX-10958-61