TRIALS of MANA Original Soundtrack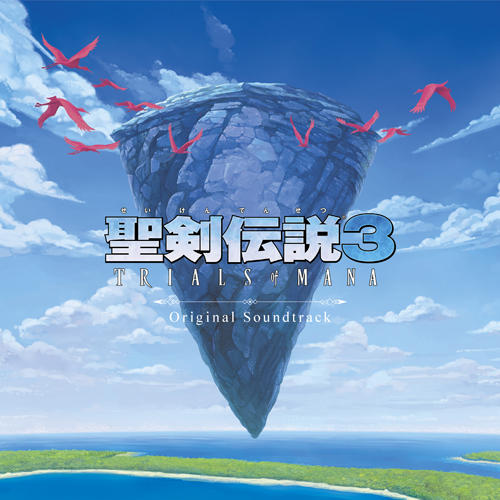 Brand new recording for the remake of Trials of Mana!
The soundtrack for the remake of Trials of Mana, on sale April 24, 2020, features newly arranged songs from the game! The original music lovingly composed by Hiroki Kikuta is getting an update just like the game itself. These new arrangements were a collaborative effort between artists Ryo Yamazaki, Tsuyoshi Sekito, Koji Yamaoka, and Sachiko Miyano. Listen to memorable songs like the mysterious opening sequence "Where Angel Fear to Tread" and the heroic melody "Meridian Child" from the prologue, as performed by a full orchestra.
Release Date(JP)

2020 Apr 22

Price

¥3,200+tax
TRACK LIST
Disc 1
1

Not Awaken

2

Where Angel Fear To Tread

3

Ordinary People

4

Whiz Kid

5

Walls And Steels

6

Axe Bring Storm

7

Little Sweet Cafe

8

Witchmakers

9

Another Winter

10

Ancient Dolphin
11

Hope Isolation Pray

12

Raven

13

Damn Damn Drum

14

Innocent Sea

15

Swivel

16

Oh I'm A Flamelet

17

Evening Star

18

Don't Hunt The Fairy

19

Fable
Disc 2
1

Lefthanded Wolf

2

Person's Die

3

Harvest November

4

Few Paths Forbidden

5

Female Turbulence

6

Intolerance

7

Different Road

8

Powell

9

Political Pressure

10

Nuclear Fusion

11

Positive
12

Meridian Child

13

Closed Garden

14

Splash Hop

15

Innocent Water

16

Delicate Affection

17

Three Of Darkside

18

Last Audience

19

Obsession

20

Strange Medicine

21

Frenzy
Disc 3
1

Can You Fly Sister?

2

Decision Bell

3

Secret Of Mana

4

Faith Total Machine

5

Weird Counterpoint

6

Rolling Cradle

7

Black Soup

8

Hightension Wire

9

And Other

10

Electric Talk
11

Religion Thunder

12

Angel's Fear

13

Sacrifice Part One

14

Sacrifice Part Two

15

Sacrifice Part Three

16

Reincarnation

17

Farewell Song

18

Breezin

19

Return To Forever

20

Long Goodbye