BABYLON'S FALL ORIGINAL SOUNDTRACK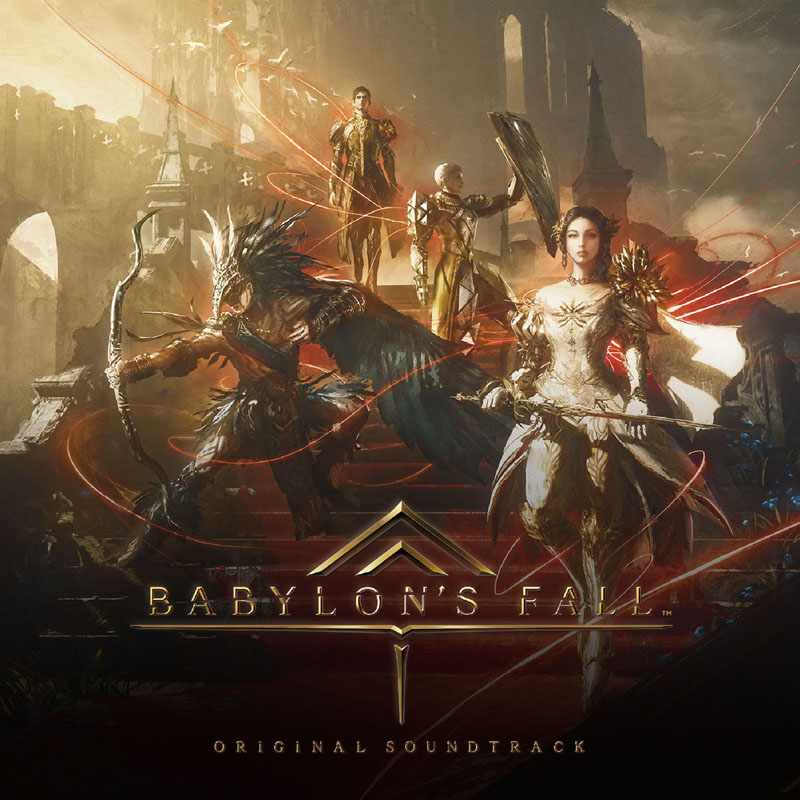 The original soundtrack for BABYLON'S FALL, a new action RPG produced by Square Enix and developed by PlatinumGames, is now available!
The 5 CD set contains a large volume of original music created to match the game's worldview while maintaining a medieval European atmosphere.
The lead music composer is Hirofumi Yamaguchi (PlatinumGames).
Release Date(JP)

2022 Mar 09

Price

¥4,730 (¥4,300+tax)
TRACK LIST
Disc1
1

Babylon's Fall Theme

2

Descendants of Babylon

3

Bound to the Ziggurat

4

River Port Town

5

Battle - Gallu Onslaught

6

Descent of the Gigant Gallu

7

Whispers From Within

8

Knight of the Empire

9

Toast to Victory
10

Dancing Dolphin - Duo

11

Poem of an Ancient Emperor

12

Puppet Master

13

The Civic Cloister

14

The Thick of Battle

15

The Civic Cloister - City Streets

16

Flag-Bearing Monstrosity

17

The Civic Cloister - Thoroughfare
Disc2
1

Silent Assembly Hall

2

Bronze Knight

3

Ixion of Despair

4

A Triumphant Victory

5

A Sentinel's Fate

6

Thieves' Cloister

7

Battle - Unstoppable Gallu

8

Thieves' Cloister - Back Alleys

9

Universal Miracle

10

Silent Little Bird
11

Thieves' Cloister - Prison

12

Bitter Defeat

13

Temple of Tragedies

14

Manifestation of a False God

15

Communion with a False God

16

Soul Without Salvation

17

To Distant Lands

18

Sonnet of the Sorrowful Soldier

19

Dancing Dolphin - Quartet
Disc3
1

Volcanic Cloister

2

Fierce Battle

3

Dragon's Flame

4

Fierce Battle - Immortal Army

5

Volcanic Cloister - Valley

6

Unexpected Reinforcements

7

Sellsword's Redemption

8

Volcanic Cloister - Cave
9

Fierce Battle - General in Scarlet

10

Volcanic Cloister - Magma

11

The Ancient Sword

12

Volcanic Cloister - Crater

13

Palace of Web

14

Silk Spinner's Lament

15

A Reunion Cut Short
Disc4
1

Frozen Cloister

2

Frozen Cloister - Ice Pit

3

Frozen Cloister - Precipice

4

Frozen Cloister - Snow Fields

5

Valor and Fortune

6

Frozen Cloister - Mountain Fortress

7

A Daring Ambush

8

Flames of Frenzy

9

Talons of Antares

10

A Rebel and a Hero
11

The Pantheon Garden

12

Duel Under the Sun

13

Dragoon's Pride

14

A World Deceived

15

Dancing Dolphin - Quintet

16

Poem of the Indomitable Knight

17

Divine Wisdom

18

Wrath of the Gallu

19

Commander of Trepidation
Disc5
1

The Asag Descend

2

Battle to the Death

3

Elysium

4

Elysium - Factory

5

Deadly Duel - Iron Warlord

6

Gideon

7

Elysium - Celestial Path

8

Prometheus
9

Helioscope

10

Birth of a God

11

Purging Light

12

A Heart Unhoned

13

Prelude to Reclamation

14

Rays of Rejuvenation

15

Ziggurat's Light

16

Winds From a Strange Land