FINAL FANTASY ORCHESTRAL ALBUM (First-Print Limited Edition) (Blu-ray)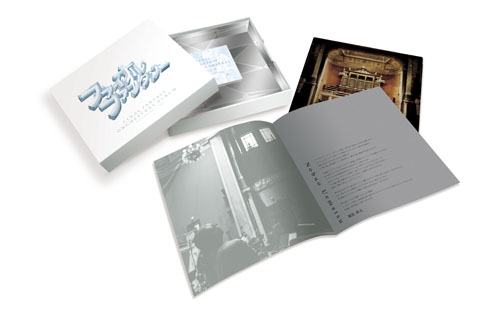 An orchestral retelling of FF's 25-year history...
Created to mark the 25th anniversary of FINAL FANTASY. Packed with 23 memorable melodies, including "Battle Theme" (FF series), "Battle with the Four Fiends" (FFIV), "Opera: Maria and Draco" (FFVI), and "Eyes On Me" as sung by Crystal Kay (FFVIII), who also appeared in the Distant Worlds THE CELEBRATION concert.

First-Print Limited Edition includes: a Blu-ray Disc featuring 23 pieces of orchestral music and 24 pieces of in-game music, as well as a vinyl record containing five tracks.
Release Date(JP)

2012 Dec 26

Price

¥8,172 (¥7,429+tax)
TRACK LIST
Disc 1
1

FINAL FANTASY Ⅰ~Ⅲ Medley 2002

2

FINAL FANTASY Ⅰ~Ⅲ Medley 2004

3

Zephyr Memories -Legend of the Eternal Wind-

4

Battle With The Four Fiends

5

Theme Of Love

6

Main Theme of Final Fantasy V

7

Dear Friends

8

OPERA "Maria and Draco" (Complete ver.)

9

Phantom Forest

10

Main Theme of Final Fantasy VII (Orchestra Version)

11

One-Winged Angel (Orchestra Version)

12

Aerith's Theme (Orchestra Version)
13

Eyes On Me

14

Liberi Fatali

15

Balamb GARDEN-Ami

16

vamo' alla flamenco

17

Unrequited Love

18

Zanarkand

19

SUTEKI DA NE (Isn't It Wonderful?) Orchestra Version

20

Ronfaure

21

The Dalmasca Estersand

22

Fang's Theme

23

FINAL FANTASY Ⅰ~XIV Battle Medley 2012
Disc 2
1

Prelude

2

Main Theme

3

Matoya's Cave

4

Elia, the Maiden of Water

5

Chocobo Theme

6

The Rebel Army

7

Town

8

Main Theme

9

ternal Wind

10

Battle Theme 2

11

Tozus

12

Battle With the Four Fiends
13

Theme of Love

14

Main Theme of Final Fantasy V

15

Dear Friends

16

Overture

17

Aria di Mezzo Carattere

18

Wedding Waltz - Duel

19

Phantom Forest

20

vamo' alla flamenco

21

Unrequited Love

22

Zanarkand

23

Ronfaure

24

The Dalmasca Estersand
LP
1

FINAL FANTASY Ⅰ~Ⅲ Medley 2002

2

Eyes On Me

3

Zanarkand
4

OPERA "Maria and Draco" (Complete ver.)

5

Dear Friends