Scions & Sinners: FINAL FANTASY XIV ~ Arrangement Album ~
Physical Copy
Download Distribution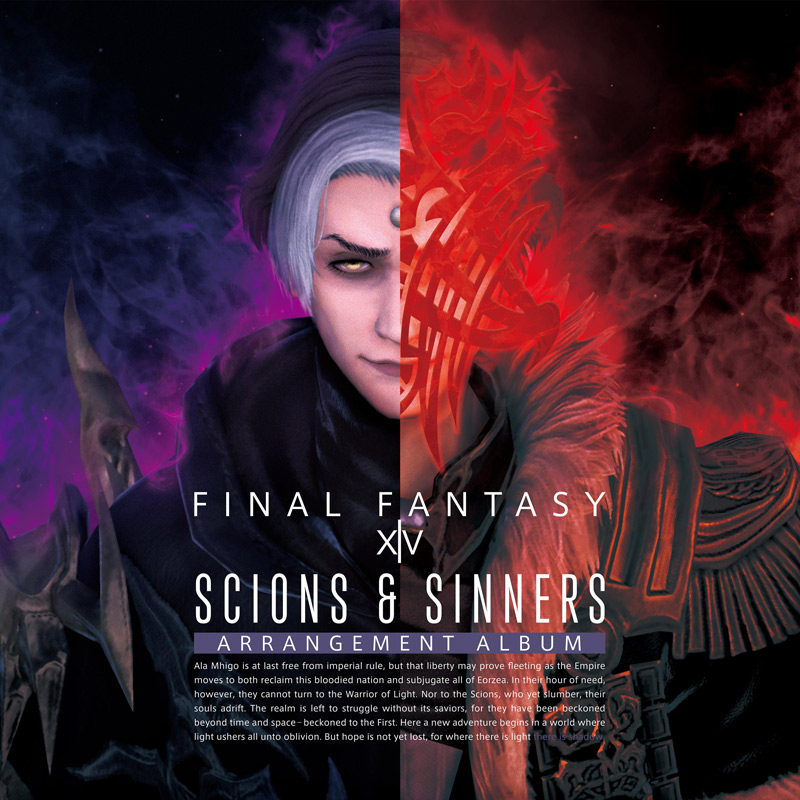 Presenting FINAL FANTASY XIV's fourth arrangement album!
The album features arrangements of 19 fan-favorite songs with Keiko performing the piano arrangements and THE PRIMALS rocking the band arrangements. The three "[EXTRA TRACKS - PIANO]" songs are collaborations between Keiko and Amanda Achen, the singer of the Shadowbringers theme song "Tomorrow and Tomorrow." Additionally, the artist footage for THE PRIMALS tracks feature brand new music videos that were shot just for this album.

A new way to enjoy music, with your eyes and ears!
The album comes on a Blu-ray disc that includes both audio & video as well as the ability to switch between in-game and artist footage, as well as 2 channel and 5.1/5.0 channel* sound!
(*Band section: 5.1 channel / Piano section: 5.0 channel)
EXTRA TRACKS does not include 5.1/5.0 surround sound.
EXTRA TRACKS does not have music videos.

Each first-run edition also contains bonus in-game item codes!*
'Neath Dark Waters (Scions & Sinners) Orchestrion Roll
A Long Fall (Scions & Sinners: Band) Orchestrion Roll
* A FINAL FANTASY XIV service account is required to redeem the in-game item code.
* The in-game item code can only be used once.
* The in-game item will be delivered to only a single character of your choice.
Release Date(JP)

2021 Mar 24

Price

¥4,400 (¥4,000+tax)
TRACK LIST
PIANO COLLECTION
1

'Neath Dark Waters

2

A Long Fall

3

Invincible
EXTRA TRACKS - PIANO
1

Tomorrow and Tomorrow

2

Return to Oblivion (Amanda Achen Vocals)

3

What Angel Wakes Me (Amanda Achen Vocals)
4

Tomorrow and Tomorrow (Instrumental)

5

Return to Oblivion (instrumental)

6

What Angel Wakes Me (instrumental)
BAND ARRANGEMENTS
1

Arrangement & Performed by THE PRIMALS

2

Ultima

3

Blinding Indigo
4

Equilibrium (GUNN Vocals)

5

A Long Fall

6

Return to Oblivion
EXTRA TRACKS - BAND
1

01. Insatiable

2

What Angel Wakes Me (Masayoshi Soken & GUNN Vocals)