KINGDOM HEARTS 20TH ANNIVERSARY VINYL LP BOX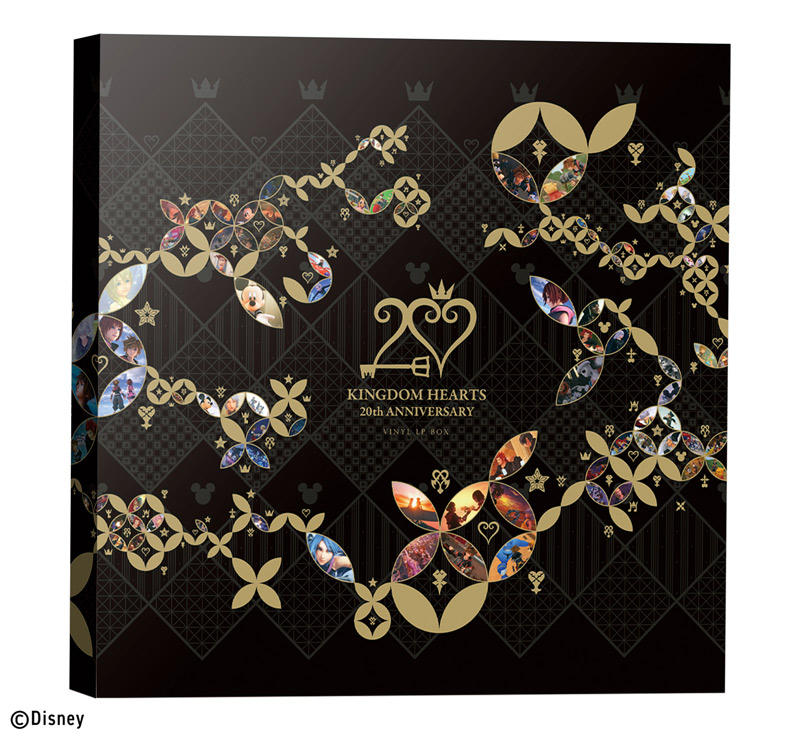 The KINGDOM HEARTS series, which celebrated its 20th anniversary in 2022, is getting a vinyl record box set.

The LP set features an advance recording of "Reality in the Dark," the song used in the KINGDOM HEARTS 20th Anniversary Announcement Trailer.
36 songs have been carefully selected from throughout the series for the 3 record set, including "Dive into the Heart -Destati-," "Traverse Town," "Don't Think Twice -KINGDOM Orchestra Instrumental Version-," and of course the iconic title theme "Dearly Beloved."
The set comes packaged in a lavishly designed box with a standing illustration card included.

Experience the music of KINGDOM HEARTS in analog with this special commemorative record set.
Release Date(JP)

2023 Mar 22

Price

¥16,500 (¥15,000+tax)
TRACK LIST
Disc 1 Side A
1

Dearly Beloved

2

SIMPLE AND CLEAN -KINGDOM Orchestra Instrumental Version-

3

Dive into the Heart -Destati-

4

Destiny Islands
5

Treasured Memories

6

Kairi I

7

Destiny's Force

8

Traverse Town
Disc 1 Side B
1

Blast Away! -Gummi Ship I-

2

Hand in Hand

3

Hollow Bastion

4

End of the World
5

Guardando nel buio

6

Always on My Mind

7

Vector to the Heavens
Disc 2 Side A
1

Dearly Beloved -KINGDOM HEARTS II Version-

2

Passion -KINGDOM Orchestra Instrumental Version-

3

Lazy Afternoons

4

Tension Rising
5

Roxas

6

Sora

7

Working Together

8

Organization XIII
Disc 2 Side B
1

The 13th Reflection

2

The Other Promise

3

Riku
4

Darkness of the Unknown

5

Rage Awakened
Disc 3 Side A
1

Don't Think Twice -KINGDOM Orchestra Instrumental Version-

2

Face My Fears -KINGDOM Orchestra Instrumental Version-
3

Dearly Beloved -KINGDOM HEARTS III Version-

4

Forza Finale
Disc 3 Side B
1

Dark Domination

2

Vector to the Heavens -Xion-
3

Nachtflügel

4

Reality in the Dark