Romancing SaGa 3 Original Soundtrack Revival Disc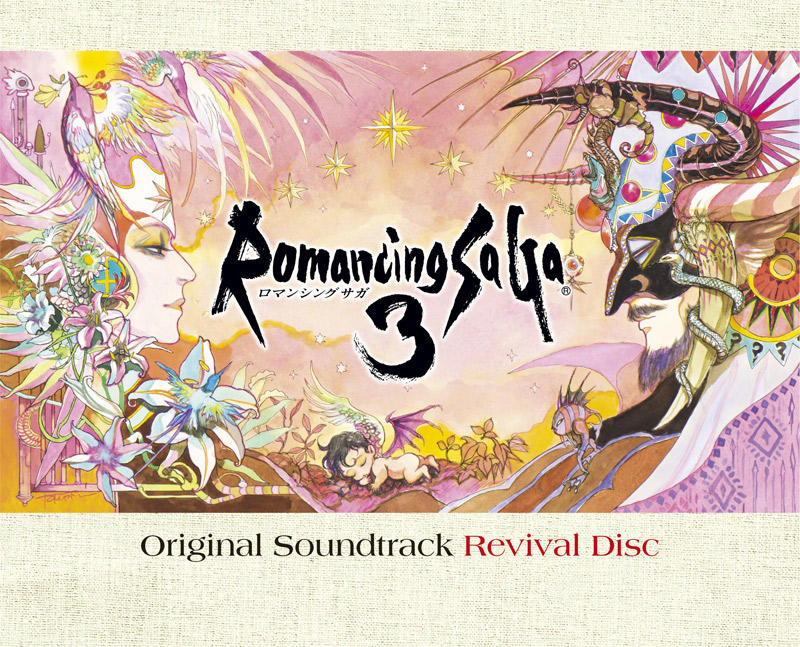 A music collection about Romancing SaGa 3's Child of Destiny with an exclusive movie!
We are pleased to announce a new soundtrack from 1995's Romancing SaGa 3, complete with an exclusive movie, in celebration of the SaGa Franchise's 30th anniversary!

This collection contains 70 songs by famed composer Kenji Ito in a format specifically remastered for this soundtrack. Like other entries in this revival series, this product comes complete with a movie containing in-game footage and a booklet containing liner notes featuring some of the title's development team members. As a special bonus, this work also features a special interview with SaGa Franchise creators.
Relive the wonders of Romancing SaGa 3 from a variety of different perspectives.
Release Date(JP)

2020 Apr 01

Price

¥5,500 (¥5,000+tax)
TRACK LIST
1

Prologue: The Rise of Morastrum

2

Title Screen

3

Julian's Theme

4

Ellen's Theme

5

Sara's Theme

6

Thomas's Theme

7

Harid's Theme

8

Michael's Theme

9

Monica's Theme

10

Katarina's Theme

11

Field of Adventure

12

Battle I

13

Victory!

14

Podorui

15

Dungeon I

16

Battle II

17

Benedictory March

18

Setting Sail

19

Muse's Theme

20

Dungeon II

21

The Lovely Professor's Theme

22

Operation Pet Pickup

23

Voyage by Sea

24

The Holy Town of Lance

25

The Matriarch's Mausoleum

26

The Mystical Tank Battle

27

The Great Arch

28

Jungle

29

Fairyville

30

The Dream Eater

31

Dophore's Misdeeds

32

Righteous Robin's Theme: Villainy Will Never Prosper

33

Awakening

34

Vanguard Liftoff!

35

World's End
36

Desert

37

Crystal Ruins

38

Eastern Realms

39

City of Kings

40

Rashkuta

41

The Divine Tower

42

Trading

43

Aurora

44

Snowman Town

45

Arctic Lake

46

Gwayne's Den

47

Castle Leonid

48

The Archfiend's Palace

49

The Archfiend's Catacombs

50

Buné's Den

51

Fire Fortress

52

Undersea Palace

53

Imminent Danger

54

Four Sinistrals Battle I

55

Utter Defeat

56

Sorrow I

57

Sorrow II

58

Off to the Battlefield!

59

Xuan Battle

60

Final Dungeon

61

Four Sinistrals Battle II

62

Abyss Gate

63

Final Confrontation

64

Epilogue: A New Journey

65

Ending Theme

66

Fanfare

67

A Night's Lodgings

68

Trading: Counterattack

69

Trading: Counterattack

70

The Lovely Professor's Theme (Original Version)