DISSIDIA FINAL FANTASY NT Original Soundtrack Vol.2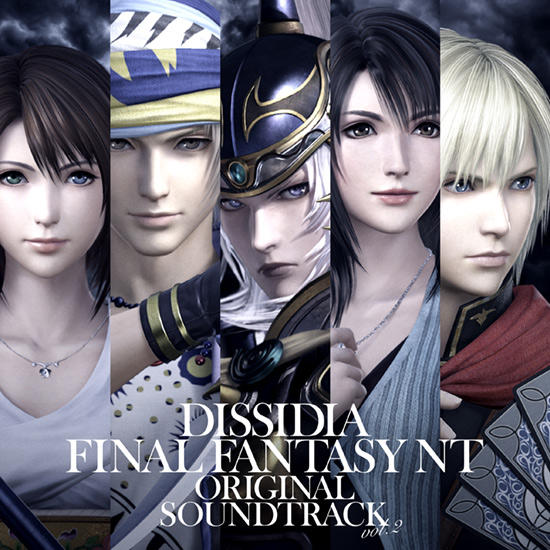 The second collection of music from the hit fighting game is here!
This two-disc collection contains all 34 tracks added to the game post-release. Takeharu Ishimoto (The World Ends with You, KINGDOM HEARTS III) returns to the DISSIDIA series to bring you brand-new arrangements of legendary FINAL FANTASY tunes.
Release Date(JP)

2019 Jun 26

Price

¥3,080 (¥2,800+tax)
TRACK LIST
DISC1
1

Matoya's Cave from FINAL FANTASY (NT Arrangement)

2

Dungeon from FINAL FANTASY II (NT Arrangement)

3

Forbidden Land, Eureka from FINAL FANTASY III (Arrangement)

4

Main Theme of FINAL FANTASY IV from FINAL FANTASY IV (NT Arrangement)

5

Main Theme of FINAL FANTASY V from FINAL FANTASY V (Arrangement)

6

Terra's Theme from FINAL FANTASY VI (NT Arrangement)

7

Jenova Complete from FINAL FANTASY VII (Arrangement)

8

The Landing from FINAL FANTASY VIII (Arrangement)

9

Battle 2 from FINAL FANTASY IX (Arrangement)
10

Assault from FINAL FANTASY X (Arrangement)

11

Goddess Divine from FINAL FANTASY XI (Arrangement)

12

Discord (Imperial Version) from FINAL FANTASY XII (Arrangement)

13

Etro's Champion from FINAL FANTASY XIII (Arrangement)

14

Triumph from FINAL FANTASY XIV (Arrangement)

15

Invidia from FINAL FANTASY XV (Arrangement)

16

War: That Which Stands in the Way FINAL FANTASY Type-0 (Arrangement)

17

A Chapel from FINAL FANTASY TACTICS (Arrangement)
DISC2
1

Mt. Gulg from FINAL FANTASY (Arrangement)

2

Tower of the Magi from FINAL FANTASY II (Arrangement)

3

The Dark Crystals from FINAL FANTASY III (Arrangement)

4

The Red Wings from FINAL FANTASY IV (Arrangement)

5

In Search of Light from FINAL FANTASY V (Arrangement)

6

Locke's Theme from FINAL FANTASY VI (Arrangement)

7

Birth of a God from FINAL FANTASY VII (Arrangement)

8

Premonition from FINAL FANTASY VIII (Arrangement)

9

Festival of the Hunt from FINAL FANTASY IX (Arrangement)
10

Blitz Off! from FINAL FANTASY X (Arrangement)

11

Shinryu from FINAL FANTASY XI (Arrangement)

12

Sky Fortress Bahamut from FINAL FANTASY XII (Arrangement)

13

Savior of Souls from FINAL FANTASY XIII (Arrangement)

14

The Worm's Tail from FINAL FANTASY XIV (Arrangement)

15

OMNIS LACRIMA from FINAL FANTASY XV (Arrangement)

16

War: Howl of the Dreadnought FINAL FANTASY Type-0 (Arrangement)

17

Decisive Battle from FINAL FANTASY TACTICS (Arrangement)