FINAL FANTASY Record Keeper Original Soundtrack Vol.4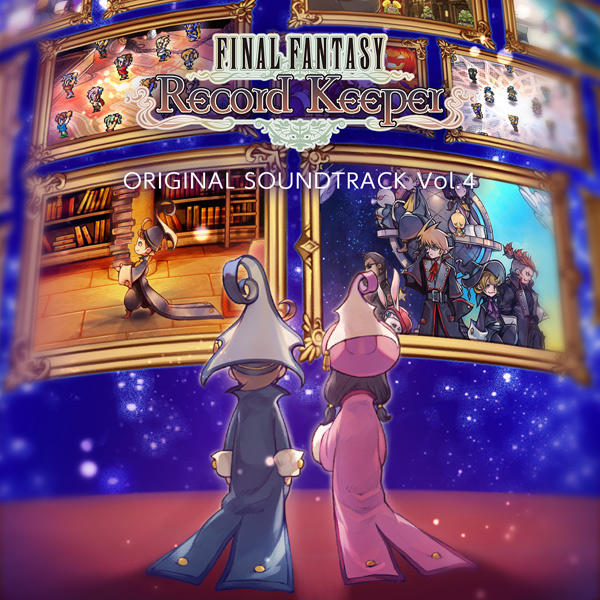 Indulge in the variety of melodies our fourth soundtrack has to offer!
Two years have passed since our last edition, Vol. 3, was released. This new addition will contain the numerous songs added between the years 2018 to 2020, and listeners can enjoy a wide selection of arrangements from the FFRK series of the FINAL FANTASY franchise.

"Matoya's Cave FFI, FFRK Ver. Arrange," which opens with the tunes of a music box and closes with a charming pop score, "Eternal Harvest/Vamo Alla Remix FFXI, FFRK Ver. Arrange," which features a passionate acoustic guitar, and "Fisherman's Horizon FFVIII, FFRK Ver. Arrange," which fills the imagination with tropical scents, are but a few of the melodies that will cast listeners under their spell. Also being included in this lineup are Christmas arrangement, Halloween tunes, and the 24-minute masterpiece "5th Anniversary Special Medley, FFRK Ver. Arrange" (implemented in 2019) and much more. Each and every song will, without a doubt, have listeners reliving the memories of these past two years!
Release Date(JP)

2020 Oct 28

Price

※配信価格はサイトによって異なる場合があります。
* Price may vary according to retailer.
TRACK LIST
1

The Imperial Army FFII, FFRK Ver. arrange

2

Court Jesters FFIX, FFRK Ver. arrange

3

Atonement/Hope's Theme Medley FFXIII, FFRK Ver. arrange

4

The Red Wings FFIV, FFRK Ver. arrange

5

Force Your Way FFVIII, FFRK Ver. arrange

6

FFVII Medley, FFRK Ver. arrange

7

Locke's Theme FFVI, FFRK Ver. arrange

8

Matoya's Cave FFI, FFRK Ver. arrange

9

Battle 2 FFIII, FFRK Ver. arrange

10

Wutai FFVII, FFRK Ver. arrange

11

Raise the Vermilion Banner FF Type-0, FFRK Ver. arrange

12

A Contest of Aeons FFX Ver. 3, FFRK Ver. arrange

13

Divinity II FFVII, FFRK Ver. arrange

14

Chocobo Medley, FFRK Ver. arrange

15

Terra's Theme FFVI, FFRK Ver. arrange

16

Eternal Harvest/Vamo Alla Remix FFXI, FFRK Ver. arrange

17

Turmoil FFXI, FFRK Ver. arrange

18

Protagonist's Theme/Alma's Theme Medley FFT, FFRK Ver. arrange
19

Festival Medley 2019, FFRK Ver. arrange

20

The SOLDIER Way FFVII-CC, FFRK Ver. arrange

21

Fisherman's Horizon FFVIII, FFRK Ver. arrange

22

Luna with Noctis FFXV, FFRK Ver. arrange

23

5th Anniversary Special Medley, FFRK Ver. arrange

24

The Decisive Battle FFVI Ver. 2, FFRK Ver. arrange

25

Castle Cornelia FFI, FFRK Ver. arrange

26

Dance with the Balamb-fish FFVIII, FFRK Ver. arrange

27

The Evil Lord X-Death FFV, FFRK Ver. arrange

28

Holiday Medley 2019, FFRK Ver. arrange

29

Battle Theme 2 FFII, FFRK Ver. arrange

30

Thunder God Cid's Theme FFT, FFRK Ver. arrange

31

Battle in Another World *JP only

32

Struggle in Another World *JP only

33

Gateway to Another World *JP only

34

Treasure Hunter Kite

35

Cardia Islands Record Dimension